---
China's industrial software output value accounts for only 6% of the world, a substantial mismatch compared to its manufacturing-added value with a 28% share of the world's total
China's domestic industrial software will soon replace foreign software due to the restricted semiconductor exports and technology blockades imposed by the EU and the U.S.
Local companies seek to develop standardised and specialised industrial software to improve their competitiveness with more robust industrial and process attributes
---
Industrial software employs computer programs to enhance business operations and streamline manufacturing and management processes [1]. It plays a pivotal role in modern industry, driving digitalisation, networking, intelligent control and business model innovation. With the economy and technology advancing, software security is crucial for national information security, especially in the government, military and finance sectors.
To strengthen its capabilities, China initiated the "Special Action Plan for Enhancing Manufacturing Design Capability (2019-2022)" [2], focusing on research in industrial software. However, trade sanctions and technological blockades by the EU and U.S. persist in various segments of the industrial software industry chain, necessitating the gradual replacement of foreign industrial software with domestic alternatives. This article delves into the current landscape and opportunities for domestic industrial software amid these challenges.
The global disparity in industrial software output highlights China's development potential
In 2022, China's industrial added value stood at US$5.5 trillion, leading global manufacturing for 13 consecutive years and contributing nearly 30% to the global output. Despite this, China's manufacturing digitalisation started late, resulting in low intelligence levels. China's industrial software output value accounts for only 6% of the world, a substantial mismatch compared to its manufacturing-added value with a 28% share of the world's total [3].
Foreign products have long dominated China's industrial software market, leaving many industries reliant on international software providers. Only business management software and local companies in the lower-value chain segments held a reasonable market share. Thus, the localisation of China's industrial software remains a work in progress with a significant journey ahead.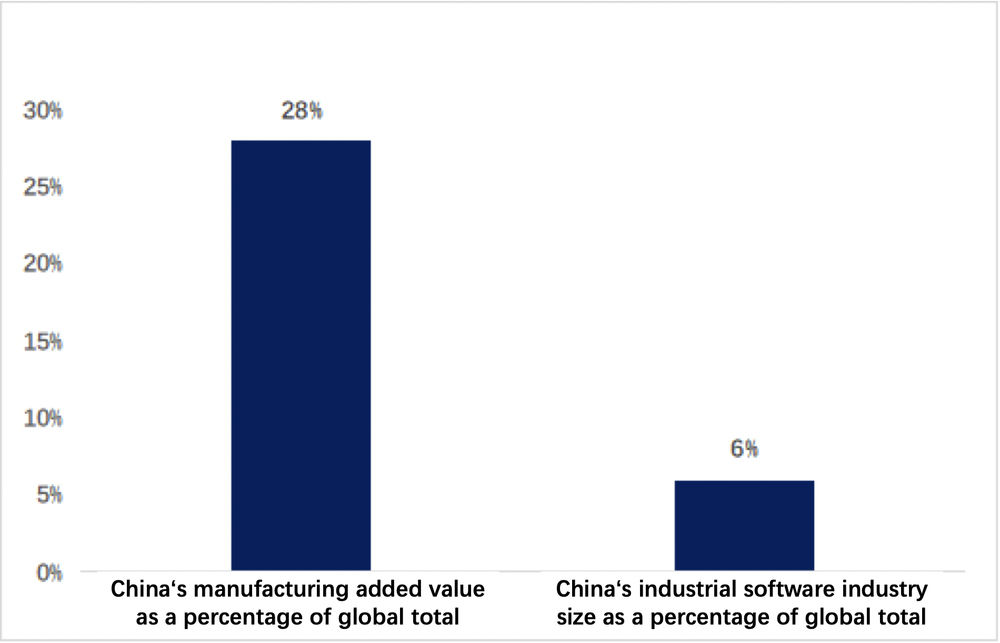 Since the initiation of the 14th Five-Year Plan, China has consistently introduced various industrial policies like the "Strategic Plan for Expanding Domestic Demand (2022-2035)," the "14th Five-Year Plan for Digital Economic Development," and the "14th Five-Year Plan for Industrial Green Development." These policies encourage growth and innovation within the industrial software sector [4].
As China's manufacturing undergoes a transformation and upgrade, high-end manufacturing industries are experiencing rapid expansion, particularly in Smart Manufacturing. Industrial software plays a pivotal role in managing production, design and manufacturing processes efficiently. Sectors like electronics, new energy vehicles, industrial robotics, machine tools and integrated circuit chips are maintaining strong growth. There's a significant demand for self-controlled middle and high-end R&D design industrial software, driving rapid expansion.
In terms of industry statistics, China's industrial software market has sustained a compound annual growth rate of approximately 15% over the past three years (2019-2021), surpassing the global market's annual compound growth rate of about 5%. According to the "2021 Statistical Bulletin of the Software and Information Technology Services Industry" released by the Ministry of Industry and Information Technology [5], industrial software product revenue reached an estimated US$36 billion in 2021, reflecting a year-on-year growth of 25%. The China Industry Research Institute predicts that China's industrial software market will attain a size of US$38 billion in 2023. With the influence of the "Made in China 2025" Initiative, the demand for industrial software and information services is poised for continuous growth.
Prospects lie in domestic substitution within R&D, design and production control domains
In China, embedded software holds the majority share in industrial software, nearly 60%. Industrial software for information management and production control each commands a 17% market share [6].

Examining market segments, localising R&D and embedded software takes precedence. Although R&D design software represents a smaller segment, its technical complexity creates a formidable entry barrier. However, given China's advancements in military, aerospace and high-end equipment manufacturing, the localisation of R&D design and embedded software is rapidly increasing. Moreover, the promotion and utilisation of smart mobile devices in digital factories will further boost embedded software growth.
From an investment and financing standpoint, the industrial software sector witnessed a remarkable 98% increase in investment in 2021, with a strong focus on production control software, particularly Manufacturing Execution Systems (MES) companies. MES facilitate comprehensive digital tracking and control of production management processes, with large industrial enterprises contributing over 50% of the total investment. Their role in advancing intelligent manufacturing is pivotal [7].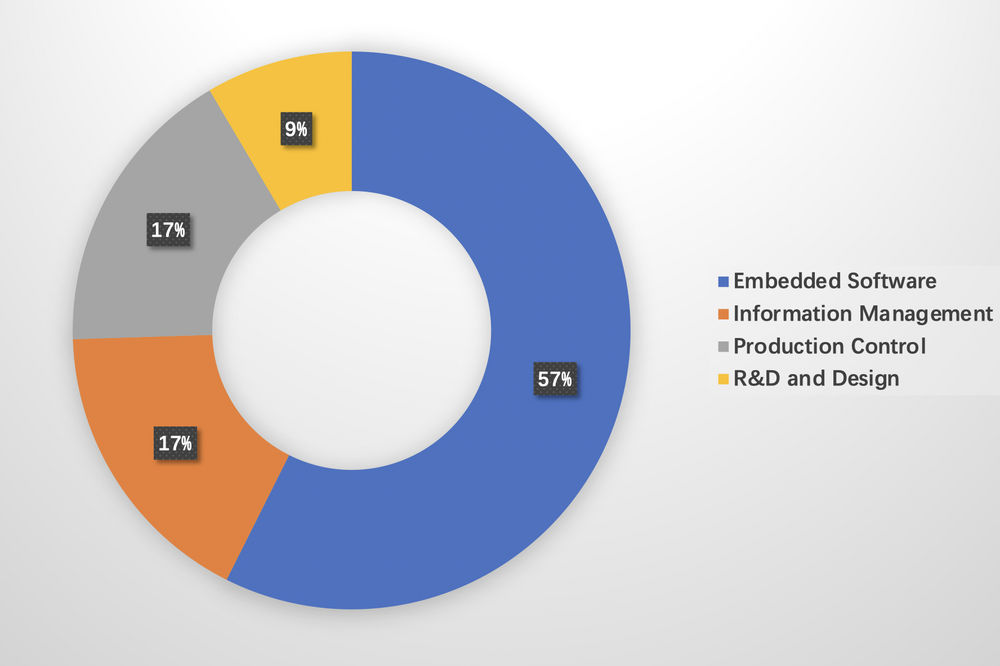 In summary, local software companies hold a reasonable share of the overall industrial software industry. While they offer a broad range of products, their primary focus remains on less complex software types, like Office Automation Software and Customer Relationship Management. It's evident that domestic industrial software products, in terms of technical performance and market presence, are still catching up with their foreign counterparts.
As per the "2021 China Industrial Software Industry White Paper" [8], the lowest proportion of domestic software is found in R&D and design software. Local R&D design industrial software caters to industries with straightforward system functions and mechanisms. In contrast, some local companies have made strides in production and manufacturing software, yet a substantial gap persists when compared to foreign industrial software giants.
In the realm of information management software, domestic software dominates 67% of the market, primarily serving Chinese small and medium-sized enterprises. However, high-end segments remain under the control of SAP and Oracle. When it comes to operation and maintenance service software, domestic offerings mostly encompass basic functionalities such as data collection and monitoring. There's considerable room for enhancement in data application and decision-making support capabilities.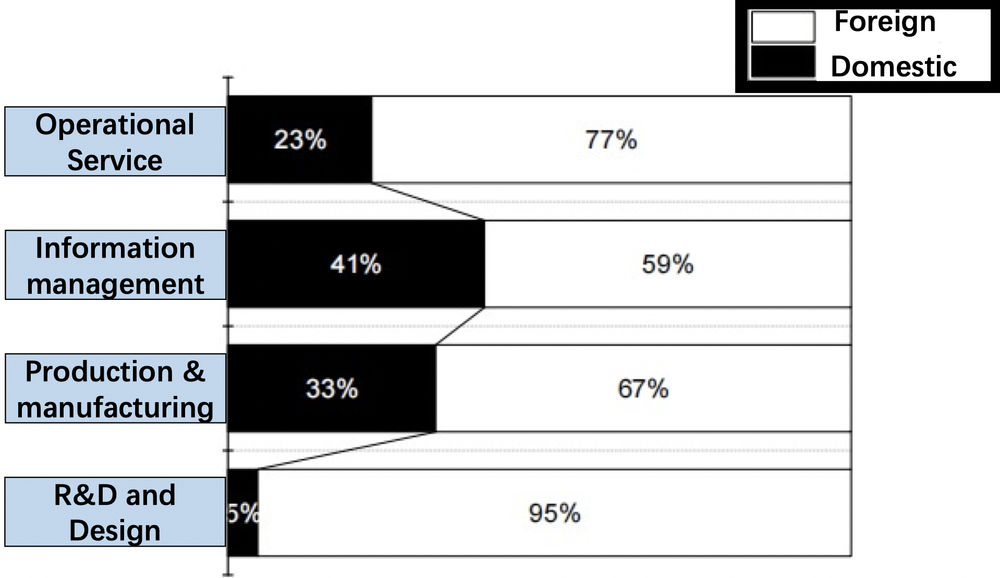 While the localisation rate of R&D design software is currently modest, the substantial investments made by top local firms in technology R&D hint at untapped growth prospects. The trajectory of production and control companies aligns with China's overarching industrial development trends, and the process of localisation replacement will naturally gain momentum within the Smart Manufacturing landscape.
The following chart offers a clear summary of specific software segments: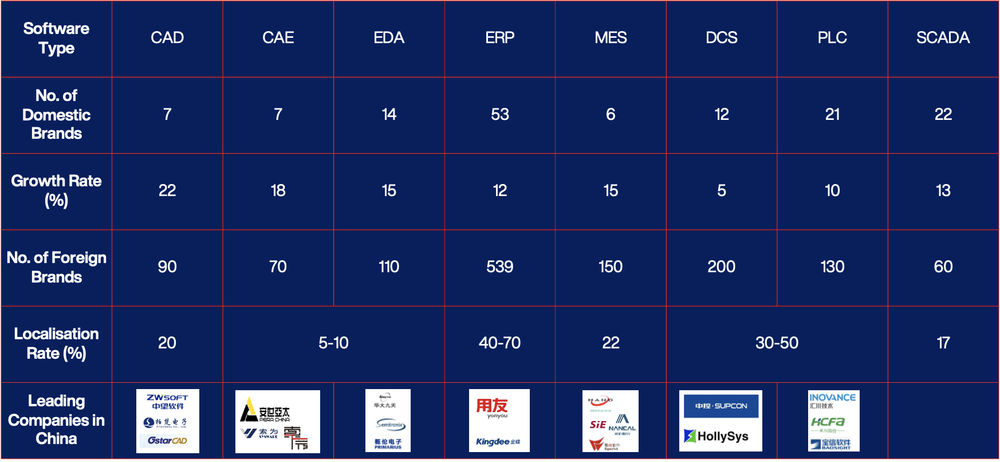 Local industrial software products will advance through standardisation and industry specialisation
At present, domestic industrial software faces four main challenges: technological constraints, inadequate R&D investment, a shortage of skilled professionals and inadequate intellectual property protection, all hindering technological innovation. On the business front, companies grapple with issues like custom solution scalability, maintaining user engagement with a simple product portfolio, limited exploration of the customer lifecycle and a lack of comprehensive business optimisation solutions.
Each vertical industry, such as aerospace, machinery, automotive, consumer electronics, military, pharmaceuticals, etc., boasts distinct processes with varying levels of standardisation. Industrial software exhibits strong industry and process attributes [9], posing formidable entry barriers, especially for companies specialising in specific industries and niche applications.
Take the automobile industry as an example. Automobiles are products of extensive industrialisation, and within the field of automobile design and development, numerous niche suppliers exist alongside widely used software like Computer-aided Design and Computer-aided Engineering. For instance, Austria's Automatic Vehicle Locator primarily focuses on developing and testing automotive powertrain systems, offering products like Engine Hydrodynamics Software and Electric Drive Assembly Design. These are vital equipment and software heavily relied upon by the Chinese automotive industry. China's industrial software development should pivot towards specialised industry-specific software. In comparison to generic industrial software, specialised solutions are more cost-effective, user-friendly and efficient, particularly benefiting small and medium-sized enterprises. The future of local industrial software lies in functional specialisation and product integration.
Service models are trending towards SaaS and customisation, with industries gradually embracing standardisation and open-source solutions. Open-source software encourages collaborative efforts among technical professionals, reducing development costs. This shift also leads companies to transition from selling products to providing comprehensive solutions. As industrial software firms amass industry knowledge, customised solutions become attractive to customers and revenue generators.
On the global stage, American industrial software leaders like GE, Oracle and Autodesk have bolstered their cloud computing capabilities through M&A and research. Local companies can draw insights from this by acquiring overseas firms with relevant technologies to surmount technical barriers and expedite product line development.
The convergence of industrial AI and domain expertise is the future of industrial software in the digital transformation era
Today's industrial organisations, particularly those in capital-intensive sectors, are investing in autonomous and semi-autonomous artificial intelligence (AI) to realise the vision of the "Self-Optimising Plant".
Industrial AI combines data science, AI algorithms, software and domain expertise to yield measurable business outcomes for capital-intensive industries. It lowers barriers to adoption, offers cost reductions, enhances efficiency and transforms operations [10].
Industrial AI applications embed domain-specific knowledge alongside AI and machine learning capabilities, creating fit-for-purpose AI-enabled applications. These processes, fuelled by real-time data and embedded Industrial AI applications, continually enhance themselves. The goal is the Self-Optimising Plant, a self-adapting, self-learning and self-sustaining set of industrial software technologies that anticipate and adjust to future conditions, optimising operations within the digital enterprise.
In summary, the Self-Optimising Plant holds the potential to enhance safety, sustainability and profitability. It empowers the next generation of the digital workforce and future-proofs businesses in complex market conditions.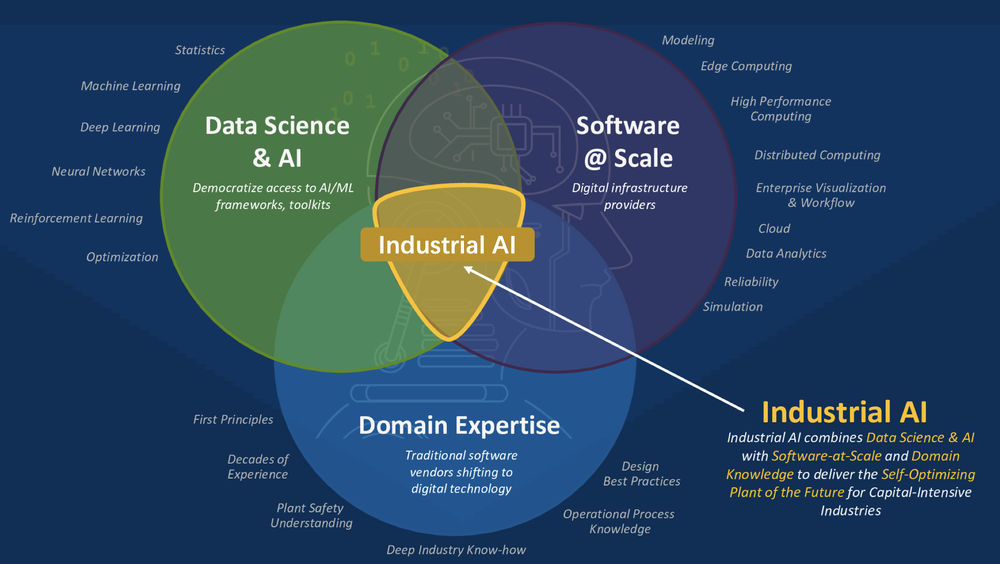 Over the last decade, new technologies like 5G, artificial intelligence, cloud computing, the Internet of Things and digital twins have lowered costs and promoted large-scale penetration of industrial software. In the future, the industrial software industry is expected to promote both software and hardware ecosystems, pushing factories towards self-consistent systems and intelligent decision-making through the advancement of industrial AI. Power and energy, semiconductor and electronic manufacturing industries are expected to be the first batch of industries in China to achieve this level of intelligence in their operations. This will further boost the digital transformation journey and upgrading of the manufacturing industry.
---
References