---
China has been successful in using indigenous technology to strengthen ESG reporting and to make business and governance practices more transparent, resulting in a rise in green financing investments
It has successfully deployed the latest trends in advanced technology like IoT and big data to streamline the environmental and social profile of its top-performing companies like Alibaba
Sustainable growth by Chinese companies has been driven by favourable state policies and efficient planning in tech-relevant fields like renewable energy and artificial intelligence
Technology has also bolstered the country's human capital growth, increasing direct metrics like healthcare and sustainable agriculture
---
As the second-largest economy in the world, China's adherence to sustainable environmental, social and governance (ESG) goals can only be a complicated balancing act. In this article, we look at the ways in which ESG in China has been given a new lease of life through tech innovations and applications.
But first, a look at some perceptions and realities.
Reduction in carbon emissions
High carbon emissions continue to be a black mark in China's book. However, what is not so widely broadcast is that China is one of the world's largest producers of renewable energy [1]. Perhaps even lesser known is the fact that China's carbon emissions began to fall in mid-2021 and continued to do so into the first half of 2022. Moreover, an additional 125 GW of solar and wind capacity in 2022 [2] helped sustain what is being marked as one of China's longest and most sustained phases of reduced carbon emission in China.
Leading producer of clean energy technology
With a global manufacturing share of 50% for wind turbines, 66% for solar modules and 88% for battery storage, China's production capacity is mainly built to service its large domestic market [3].
The country also ranks first for Leadership in Energy and Environmental Design (LEED), the world's most widely used green building rating system, with a 6-million-square-meter advantage over the next-ranked country. In 2022 China had over 16 million square meters of LEED-certified green space across 1,121 projects [4].
Growth in green finance
Data from MSCI, a leading provider of decision support tools for investing, reveals that China has become the world's second-largest green bond market. With a total balance of US$270 billion by the end of 2021 [5], the green financing market is expected to grow to US$10.4 trillion by 2031 [6].
Notably, this coincides with the rise in ESG-focused funds, of which 112 were launched in the 20 months leading up to August 2022 [7].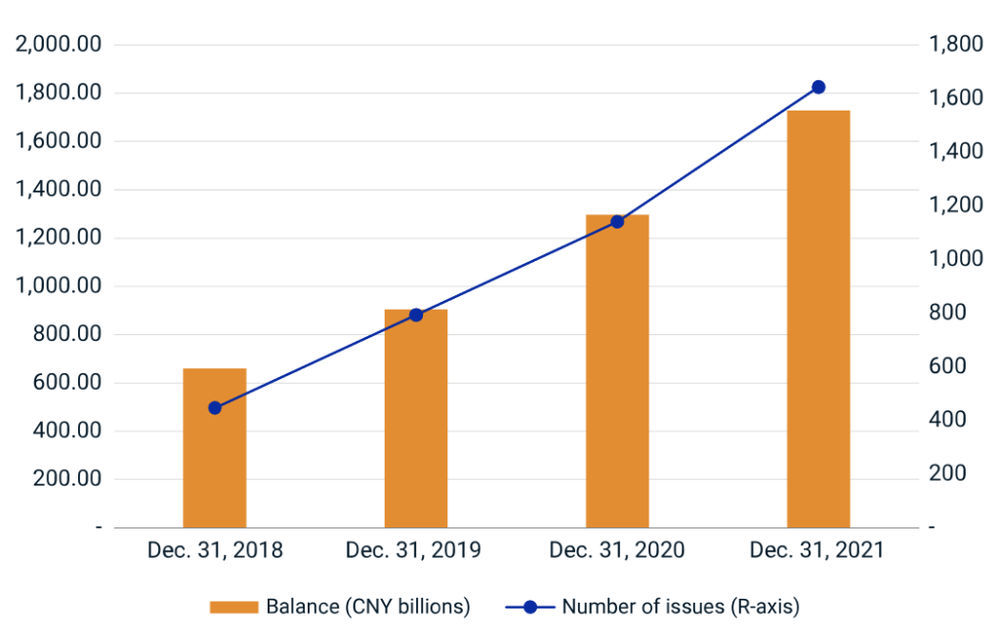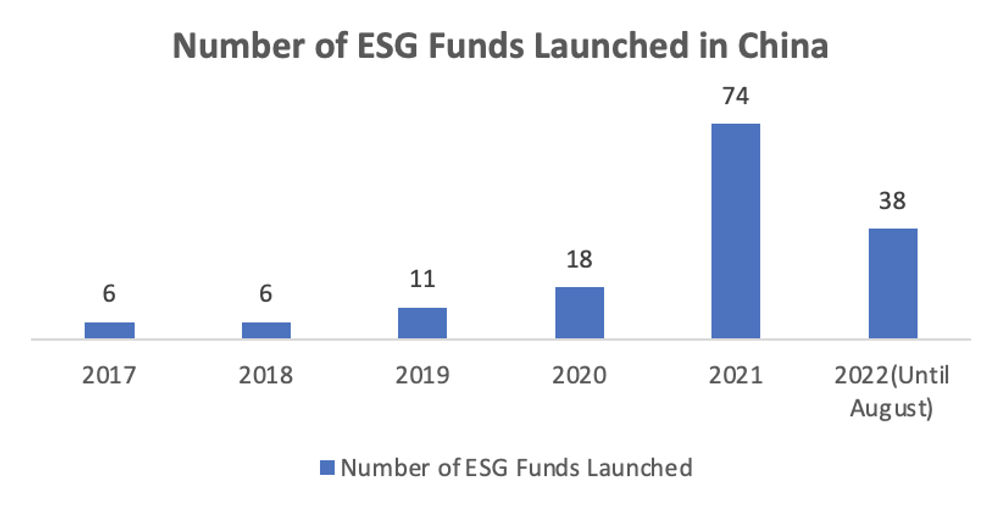 How does technology help meet ESG goals?
ESG goals are measured within a matrix of objectives. These include, but are not limited to:
Efficient environmental profile
Improved human capital profile  
Transparency in business practices, data privacy and data security
Responsible investing practices  
Responsible corporate governance practices
Integrating technology helps achieve these goals, impacting overall ESG performance through successful adoption and implementation.
For instance, payment wallets that award 'green points' have had tangible outcomes. Accumulated points contribute towards outcomes of Social Development Goals (SDGs) like reforestation. As of May 2020, users of Alibaba Group's Alipay, one of China's largest payment platforms [8], contributed to planting over 200 million trees. This generated more than 650,000 job opportunities for locals, impacting other SDGs such as "Decent Work & Economic Growth" [9].
Which domains are most likely to benefit from technological developments in China's ESG landscape?
I. Improved ESG Reporting and Disclosure Standards
Self-disclosure and transparency are on the rise in China, with 1,021 companies listed on the Shanghai and Shenzhen stock exchanges voluntarily publishing annual ESG reports in mid-2020. Compared to only 371 companies complying with ESG reporting in 2009 [10], this is clearly a positive development. 
Using 2011 as the base year, Bloomberg Intelligence predicts that the number of companies releasing ESG disclosures in 2031 is expected to increase 15 to 20 times from 2011 levels [11].

Artificial Intelligence (AI) enables shorter timelines, structured analyses and actionable insights.
Continuous automated monitoring of ESG indicators and insightful data analysis helps streamline the disclosure process.
A notable example is Ping An's deployment of its AI-enabled ESG platform, which maps over 500 indicators from different regulatory agencies. It has helped the company automate data collection, monitor changes and generate actionable insights through industry peer comparison. As a result, in 2020, the company was able to reduce its ESG reporting process by 22 days [12].  
While in Hong Kong, fintech MioTech uses algorithm-driven AI and machine learning (ML) to identify and structure patterns, providing 120 ESG data points from over 12,000 public sources [13].
II. Improved ESG Reporting and Disclosure Standards
As of September 2022, China was on track to meet its 14th Five-Year Plan target of consuming 33% of electricity from renewables by 2025.
The confidence to meet these targets is founded on the sustained and swift deployment of tech-enabled solutions such as solar PV, wind turbines and energy storage equipment.
Predictive models increase efficiency and ease problem-solving.
In February 2023, China launched a national wind and solar resources climate prediction model to enable provincial authorities to forecast energy demand and supply. Generated monthly reports will provide graphic predictions on variables such as wind speed and solar radiation and demand-side data such as average local temperature. This will ease the systemic challenges of coping with spikes in demand during weather extremes and avoid power outages [14].
Technologies like carbon capture remove emissions from the atmosphere.
Another example is the Guangdong Carbon Capture Testing Platform Project (GCCT), Asia's first multi-technology international carbon capture technology testing platform. The platform is capable of capturing about 20,000 tonnes of carbon dioxide annually, with the processed carbon being utilised in industries such as food processing [15].
Analytics and Internet of Things (IoT) technologies reduce energy consumption.
A Chinese-based company, Flex, developed a system to detect abnormal usage of energy, water and other resources with the help of Industry 4.0 tools. As a result, in 2021, its China office lowered overall electricity and water consumption by 29% and 31%, respectively, simply through effective monitoring.
Such positive trends in clean energy are most likely to greatly impact United Nations (UN) SDG 7 — Affordable & Clean Energy.
III. Electric Vehicles
Over two years, the number of Electric Vehicles (EVs) in China quadrupled to 26% of the total number of cars on the road. Partly fuelled by government subsidies that encourage both private and corporate drivers [16] — a sign that China has taken the high road to clean vehicle deployment.
With 57% of global EV sales in 2021 and increasing battery production in Europe [17], China's sustainable battery technology and efforts to promote clean charging are issues that demand further attention.
Blockchain technology to track cobalt mining in lithium-ion batteries is another key effort in the industry, with a pilot being run in the Congo in 2018. Using technology to increase the efficiency of mining would enable better adherence to UN SDG 12 — Responsible Consumption and Production.     
IV. Sustainable Agriculture and Food Production
Drones increase efficiency and reduce pesticide pollution.
The number of crop-protection drones used in China has risen from 4,000 in 2016 to 120,000 in 2021. Key players include drone service provider XAG, which alone has deployed 80,000 professional drone pilots [18].  
The efficiency with which drones can spray pesticides impacts over 71 million hectares of farmland across the country and cuts pesticide pollution by as much as 30%.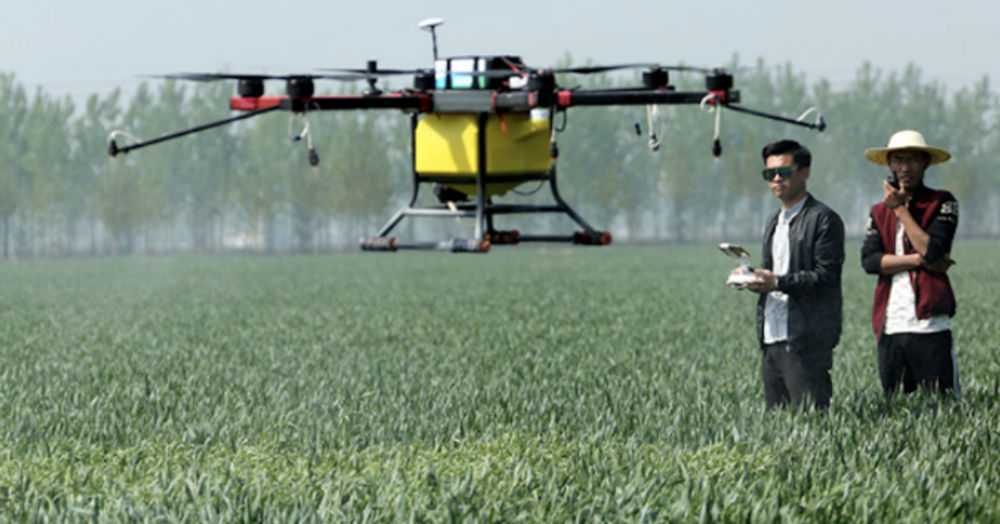 Robotics and AI improve farmland productivity and crop diversity.
The use of high-definition maps, satellite navigation, mobile internet, intelligent agricultural machinery and autonomous driving are expected to play an increasing role in areas with limited traditional agricultural machinery [19].
ESG data management helps the dairy industry.
When leading market player China Mengiu established an ESG data management system with over 1,000 ESG indicators, it took charge of its own sustainable development. Using ESG reports for detailed annual disclosures, it also actively responds to CDP questionnaires and accepts MSCI and other mainstream ESG ratings [20]. 
Satellite-enabled disaster management and operational metrics.
China's Ping An 1 satellite not only uses big data and IoT to monitor wearable devices for dairy cows, thereby recording milk production rates and other operational data, but it also uses disaster anticipation and risk system algorithms [21] that help farmers with risk assessments, smart premium calculations and insurance protection, thereby addressing UN SDG 1 — No Poverty.
V. Waste Management
China is set to generate as much as 326 million tons of solid waste by 2030, up from 235 million tons in 2020. The failure to process waste efficiently could lead to an estimated loss of resources valued at over US$4 billion.
Tech-enabled waste sorting
To combat this, China's State Council has published a "zero waste" plan that promotes the "Internet Plus recycling model," integrating new technologies in waste sorting.
Shanghai was among the first to implement tech-enabled training for waste sorting via free-to-access VR video game machines, supplemented by a set of 280-odd mini-apps launched by WeChat in 2020.
Other smart solutions include Taobao, where Alibaba developed 70 mini-programs related to recycling, along with an AI-based waste recognition system and online facilities to resell recyclable waste [22].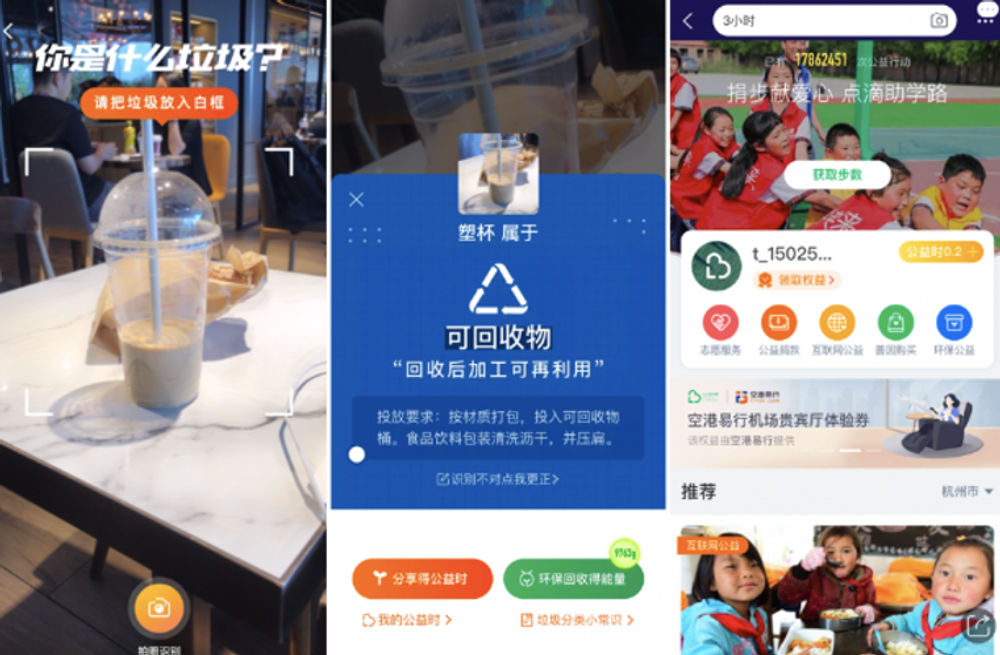 Environmentally friendly solutions that generate an energy surplus
A recent application that helps automate incineration monitoring at waste-burning facilities is Alibaba's Cloud AI. Intelligent features that detect and adjust parameters help optimise the operational efficiency of incinerators, reduce toxic emissions and maximise energy output. Deployed along 100 waste-burning facilities across 30 cities in China, this project has led to a yearly surplus of 360 million KWh of electricity being generated [23].
Such measures help work towards UN SDG 11 and 12 – Clean Water and Sanitation and Responsible Consumption and Production.
VI. Healthcare
The speedy shift of medical AI from research to implementation means better healthcare across entire provinces and wider sharing of AI-based medical research from locations outside China.
The pervasive adoption of health technology in China is also attributed to the shortage of specialists (there are only 44,000 specialists for China's 1.4 billion-strong aging population). 
An eye-opening example is that of Airdoc [24], a Beijing-based medical AI group, which has been deploying retina-scanning software to help detect up to 30 different medical conditions in rural hospitals that lack ophthalmologists.
These initiatives in education and healthcare are set to improve China's performance in relevance to UN SDG 3 (Good Health and Well Being), SDG 4 (Quality Education) and SDG 10 (Reduced Inequalities).
VII. Manufacturing
With 30% of global manufacturing output coming from China, harnessing various manufacturing technologies has been essential to transform operations and boost sustainable functionality. 
China is host to over one-third of the factories listed under the Global Lighthouse Network, a World Economic Forum initiative, in collaboration with McKinsey, that seeks to examine the future of integrating Fourth Industrial Revolution (4IR) technologies in shaping production without compromising on ESG goals.
Noteworthy examples of smart manufacturing include:
China's lithium-ion battery major Contemporary Amperex Technology Company Limited, which operates the world's first certified 'zero-carbon factory' in the city of Yibin in Sichuan, reduced carbon emissions by 400,000 tons per annum. This is attributed to hydropower, which contributes to nearly 80% of its energy consumption.
Global leader in aluminum wheels and chassis products, CITIC Dicastal, uses an AI+ platform to process manufacturing data into a shared root cause countermeasure database.
Sany Heavy Industry Company, which deployed 5G, IoT, AI, big data and advanced manufacturing, saw its production capacity increase by 59%, shortened the manufacturing cycle by 49% and reduced energy consumption by 11.3% by [25].
Such innovations are most likely to have an impact in China concerning the UN SDG 9 – Industry, Innovation & Infrastructure. They align with plans by the Ministry of Industry and Information Technology to digitalise 70% of large-scale Chinese manufacturers by 2025, with over 500 demonstration manufacturing facilities to be built nationwide [26].
Conclusion
Looking ahead, China's capacity for technological innovation in creating an ESG-friendly ecosystem is powered by domestic expertise and international collaboration. To be sustainable in the long run, state incentives will aid in supporting opportunities for foreign firms and memorandums for technology transfer while complementing strong domestic policies that protect foreign intellectual property from events affecting data privacy like cyberattacks.
---
References