To meet the challenges brought by urbanisation and better promote the healthy and sustainable development of cities, the National Development and Reform Commission of the People's Republic of China initiated the construction of "New Infrastructure" in April 2020 [1], which defined new development pathways driven towards digital transformation and technological innovation on a society level. The New Infrastructure Initiative promoted the adoption of 5G, cloud computing, artificial intelligence (AI), big data, Internet of Things (IoT) in various industries and scenarios. It is observed that the real estate industry is increasingly becoming an important field for applying and landing these innovative technologies.
The real estate industry has a wealth of usage scenarios, such as smart homes, Smart Buildings , and smart communities, altogether representing different sections and functions of a Smart City. In recent years, the real estate industry transformation has been largely driven by the development of property technology (PropTech). It is acknowledged that the rise and development of PropTech is closely related to China's urbanisation process.
AI, 5G, and IoT as the significant technology booster of PropTech
The classification of PropTech is mainly divided into four major areas: smart real estate, contech, shared economy, and real estate fin-tech. It can be further divided into 12 sub-sectors, including commercial real estate, smart home, property management, asset management, construction management, indoor mapping, etc. [2]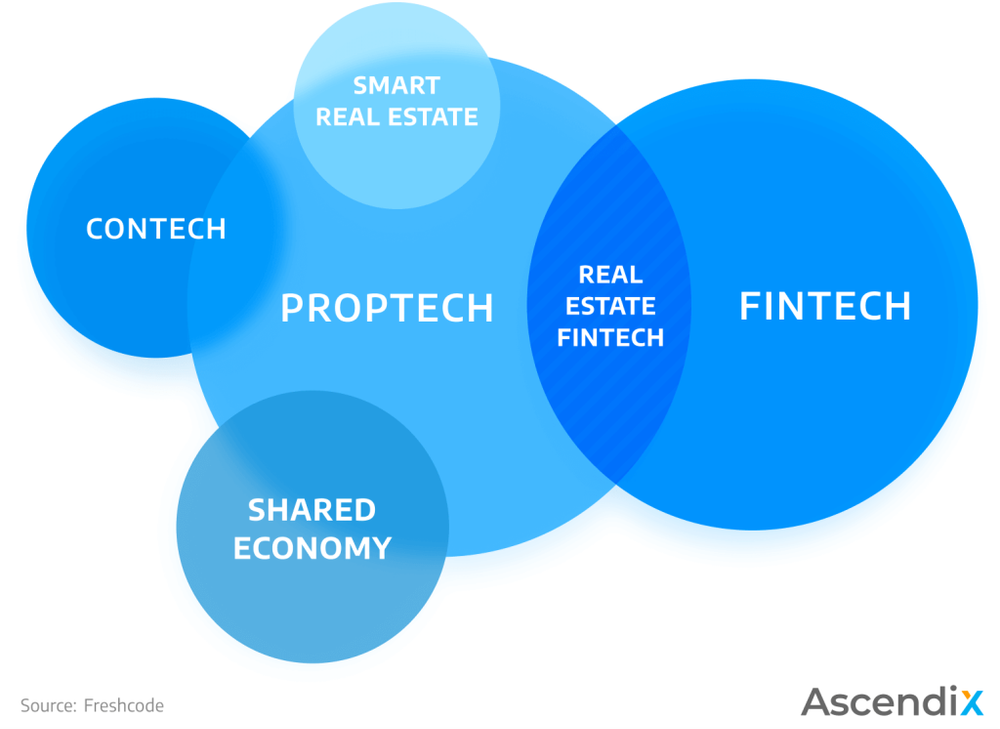 The Tree Map below illustrates the Top 10 Property Technology Trends impacting the industry based on the Property Technology Innovation Map. AI is the largest trend within PropTech, followed by immersive technologies like virtual reality (VR) and augmented reality (AR) that are transforming property visits. The embrace of the IoT is another key driver, facilitating the data exchange of sensors [3].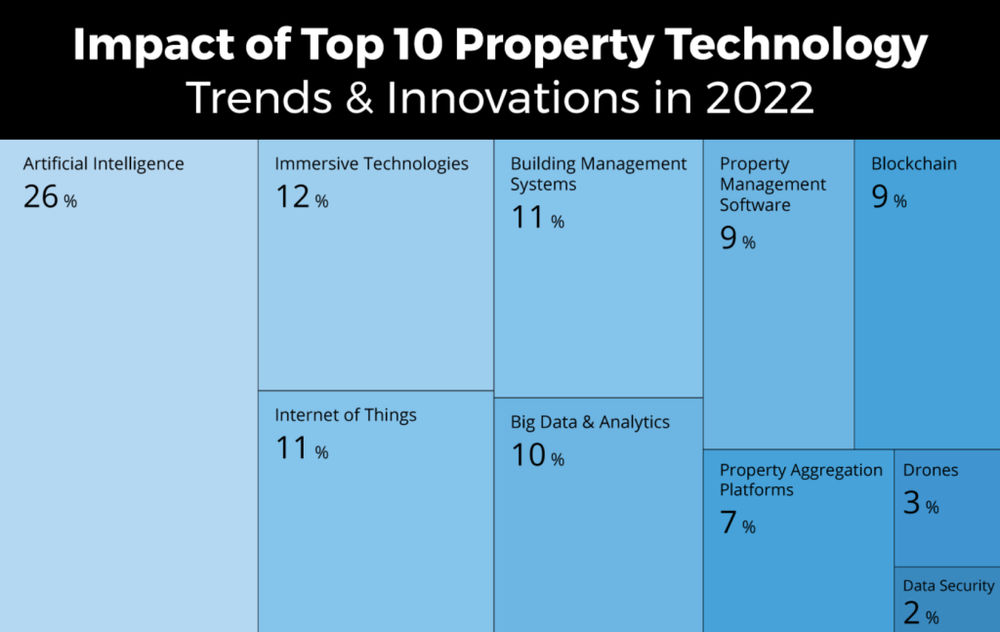 Additionally, 5G technology will be one of the key enablers of Smart Buildings. 5G eliminates latency and allows for the transmission of a much more significant amount of data. It is acknowledged that China has the strongest 5G presence in the world in terms of network scale [4], which enables full implementation of IoT and other emerging technologies in the real estate space.
Digital designs and construction – the starting point of Smart Buildings
The first field of PropTech application lands in Smart Buildings. Smart Buildings are digitally connected structures that combine optimised building and operational automation with intelligent space management to enhance the user experience. A Smart City 2.0 version encompasses not only connected infrastructure but also the goal of higher quality of life for citizens. Smart City 2.0 uses three Ds – data, digital, and design – to enhance citizens' experience and city decision-making [5].
According to McKinsey Global Research [6], the construction industry is among the least digitised industries in China, which also implies the sector's high growth potential. In the past five years, the adoption of Building Information Modeling (BIM) technology, green buildings, and digital architecture is already driving digitalisation to a higher level. Take the example of the completed project of Beijing Daxing Airport, which Huawei joined as the technology partner, leveraged Computer Integrated Manufacturing (CIM) technology and BIM to complete structural design, resource optimisation, and data management. As a result, the project reduced construction costs by 5-10%, construction time by 10%, and rework rate by 60% [7].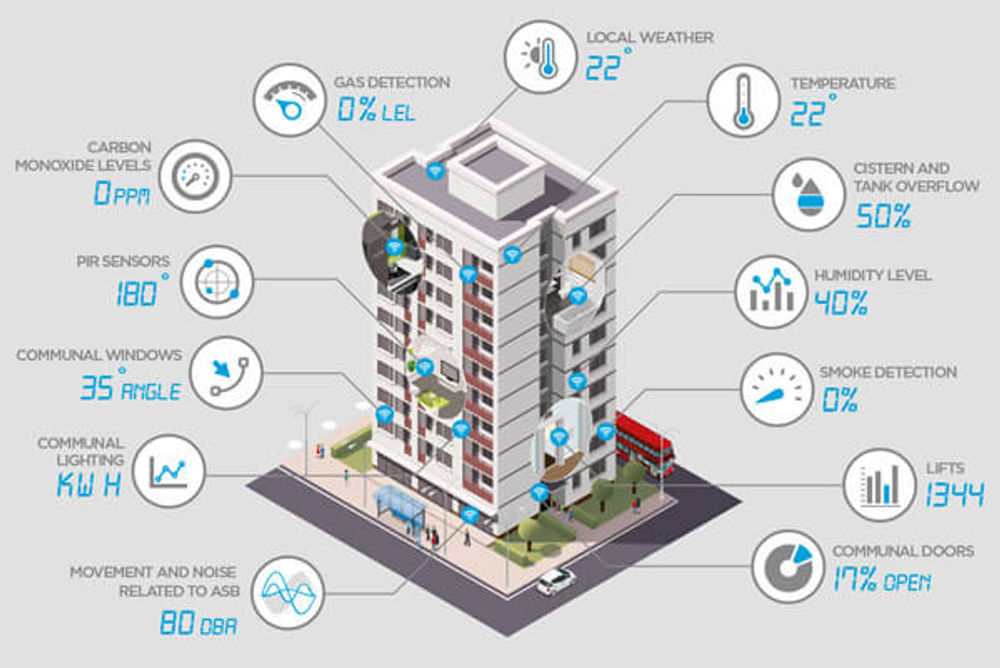 Smart homes achieving energy conservation through facility management
From smart sensors to solar panels, PropTech is creating a next-generation Smart Buildings experience that aims for higher efficiency of facility management and energy conservation while improving the residents' living experience.
Haier, the world's leading in-home appliances brand, has successfully transformed into a smart home solution provider in recent years. Through collaboration with real estate companies, Haier offers customised solutions according to the housing or commercial scenario. Its solutions can achieve comprehensive energy conservation through connected devices and management via the cloud, enabling features such as one-key power on and off, temperature lock, fault warning, etc.[8]. Haier is continuously upgrading its solutions by integrating all sorts of data, including sound, temperature, humidity, pressure, vibration, etc., that is managed under a particular platform system for comprehensive processing and analysis.
In-building 5G and private networks unlock more smart scenarios
5G technology, paired with private network capability and the added value of putting more computing power at the edge of the network, will start to automate critical operations. Constructed in 2019 and completed by 2021, the Shanghai Lingang District covers 315 square kilometers of urban space. The district has been planned and managed through the Smart Lingang City Big Data Platform, powered by Geographic Information System (GIS) and BIM technologies, and integrated with geographical building facilities. The platform offers real-time insight into the population heat map, traffic flow, video monitoring, image recognition, and other functions, all enabled through the 5G network. Digital control towers were built for building operations, which leverage machine learning and AI to calibrate services across a building, as well as cluster management of a larger district of properties. The original smart infrastructure also paves the way for its latest attempt at digital twins and carbon-neutral efforts [9]. As such, the Lingang district is now listed as a pioneering sample district in Shanghai.
Emerging technologies and future trends
There are many other technologies within the PropTech sector, including blockchain, 3D modeling, augmented reality, robotics, and spatial positioning technology, just to mention a few. All of them have their place within the industry, driving innovation, efficiency, and sustainability in different scenarios.
How to combine 5G with AI, IoT, AR, VR, and other intelligent technologies is yet another topic of exploration. However, the combination of technologies can certainly benefit Smart Buildings with higher efficiency, higher reliability, and further sustainability.
---
References