---
Small and medium-sized hotels can use digital marketing to attract traffic, enhance personalised services and create differentiated experiences
Many hotel and tourism marketing personnel are now adopting "always on" online strategies that cover the entire life cycle of users
The value of private traffic marketing lies in its ability to establish effective customer relationships (long-term and loyal) with users
---
Background of global and China hotel industry post-COVID
The COVID-19 pandemic caused significant damage to the hotel industry at the beginning of its onset. As the impact of the pandemic weakened, global hotel supply has steadily recovered. According to STR data, prior to the pandemic, global hotel room supply grew steadily at a rate of about 2%-3% per year. In 2020, due to the pandemic, it slowed to 1%, and in 2021, the growth rate rebounded slightly to 2%. Revenue per available room (RevPAR) fell by 53% in 2020 before returning to near pre-crisis levels in 2022 [1].
In many countries, such as the US, midscale and economy hotels fared better than others, while luxury hotels bore severer losses [2]. This serves as a good opportunity for small and medium-sized hotels to close the gap with leading hotel groups. Using practices in China as examples, this article explores how digital transformation can help small and medium-sized hotels reduce costs, improve efficiency and enhance their competitiveness.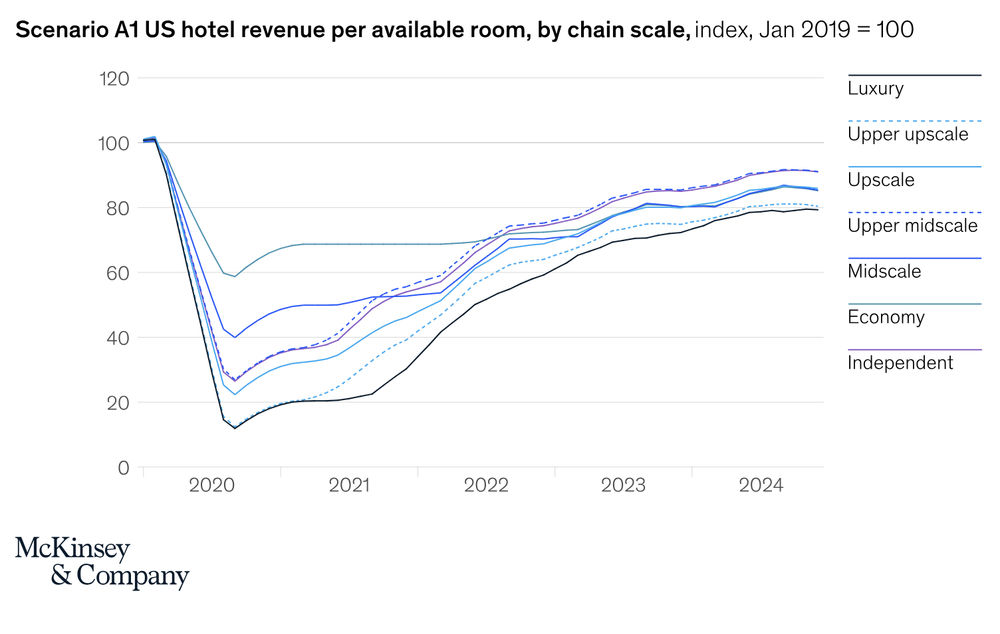 According to data from the China Hotel Association, the Chinese hotel industry being the world's largest, experienced a 25% decrease in the number of hotels due to the pandemic [3]. From the beginning of 2023, the hotel and travel industry has rebounded strongly, and small and medium-sized hotels have also gained new growth momentum. However, due to the lack of brand influence and professional operation capabilities, small and medium-sized hotels still need help with business recovery after the pandemic. This is largely related to insufficient digital investment in the early stage.
The Chinese hotel industry faces four core problems: smaller independent hotels (an average of 25 rooms), lower chances of franchising (17%, compared to 70% in the US), weak profitability (net profit margin of 3%, average single room revenue) and low salaries. These issues have led to many problems in the Chinese hotel market, including low brand value, backward management and talent outflow.
The onset of the pandemic in 2020 forced the hotel industry to embrace digitalisation. As reported in a survey of hotel business owners and managers, the main goal of 2023 is to improve service experience and increase revenue and efficiency through technology [4]. However, small and medium-sized hotel and travel companies still need to catch up with leading hotel groups in terms of digital transformation.
Customer management technologies and data-analytics platforms have been widely adopted
According to AWS's recent "Digital Transformation and Innovation Report" [5], the biggest challenge faced by the global hotel industry after COVID has been "legacy/outdated technology". 48% of respondents indicated that they plan to invest in and adopt more modern hardware and software by 2023. This also resonates with the urgent need for the Chinese hotel industry to embrace digital transformation to remain competitive in the global market.
After experiencing the rapid development of Chinese hotel technology from 2018 till now, customer management technologies and data-analytics platforms have been widely adopted. Enterprise-level management systems, such as central reservation systems, customer relationship management systems (CRM) and data platforms, have been gradually adopted by smaller hotels. In comparison, digital marketing technology and data-driven optimisation solutions are less mature and still in development.
At this stage, small and medium-sized hotels can experiment with "digital hotels" and gradually pave the way for digital operation through digitised services and online channel operation. Later, they can start to deploy intelligent software and hardware devices to achieve a higher level of digital and intelligence services in various application scenarios.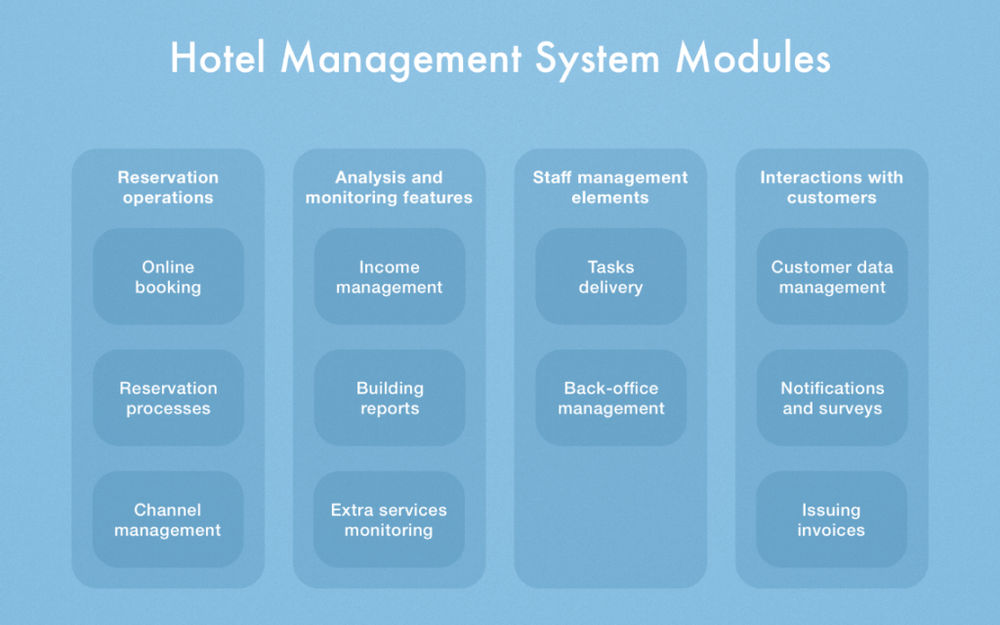 Through data presented from digital operations, hotel operators can better understand the needs of users and quickly iterate services based on their feedback. Small and medium-sized hotels can use digital marketing to attract traffic, enhance personalised services and create differentiated experiences. In adopting new technologies, hotels must understand their brand positioning, customer demographics, key business metrics and relevant financial data (such as average room rates, occupancy rates and RevPAR) to offer data-driven personalised services.
Digital marketing will become a powerful tool for small and medium-sized hotels to drive revenue growth
Digital marketing will be better leveraged for small and medium-sized hotels to generate revenue growth. In recent years, digital service and marketing methods such as mobile payments, credit stays, intelligent hardware services, etc., have been widely used. Social media platforms like WeChat and Weibo, China's equivalents of Twitter, are no longer emerging channels but "must-haves" for travel businesses. Since the pandemic, younger people have shown more interest in travel than older generations, prompting leading travel players to engage these customers through new channels such as Taobaolive and TikTok. CEOs have even begun to act as hosts on live-streaming platforms to showcase travel destinations and deals. This innovative marketing approach appears to be paying off for some players, such as James Liang, founder and chairman of Ctrip, whose recent live-streamed marketing campaign generated 10 million CNY in travel product sales within an hour of the broadcast [6].
Hotels use official apps to develop direct sales channels and obtain strong loyalty from members to improve their sales channels and increase their loyal customer base. They are also partnering with online travel agencies and platforms (OTA and OTP) to exchange membership data and convert the platform's public traffic into the hotel's private traffic.
Many hotel and tourism marketing personnel are now adopting "always on" online strategies instead of seasonal promotions, covering the entire life cycle of users from inspiring demand to generating purchases and second consumption. The value of private traffic lies in its ability to establish effective customer relationships (long-term and loyal) with users rather than just advertising investment for single transactions.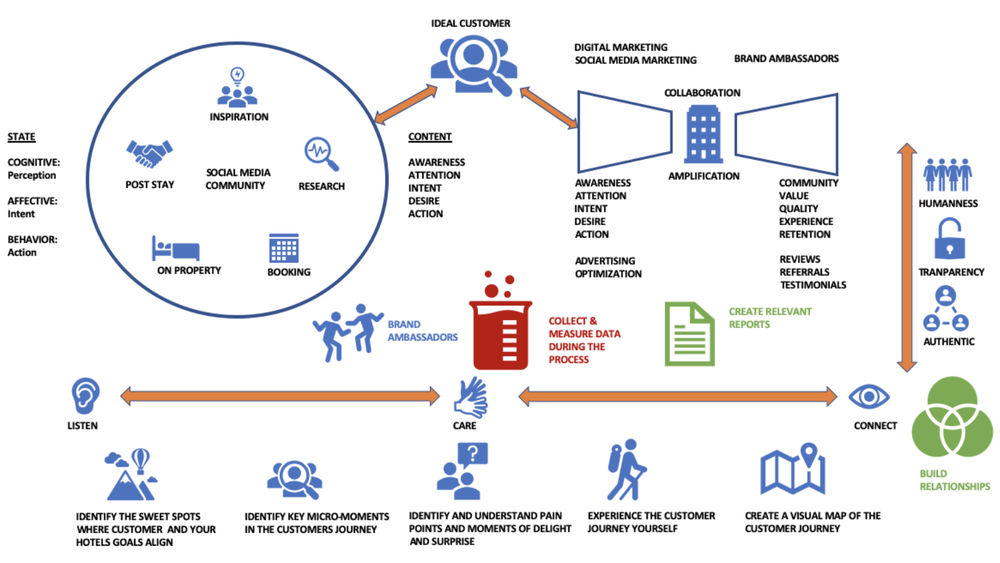 Zhuyou Hotel Group is known for its innovative spirit and mobile internet mentality in the hotel industry. Its total number of members in omni-channels is nearly 40 million. Zhuyou's solution aims to digitise every aspect of the user lifecycle for small and medium-sized hotel groups, leveraging public and private user traffic to achieve hotel retention, improved customer unit price and repeat purchases.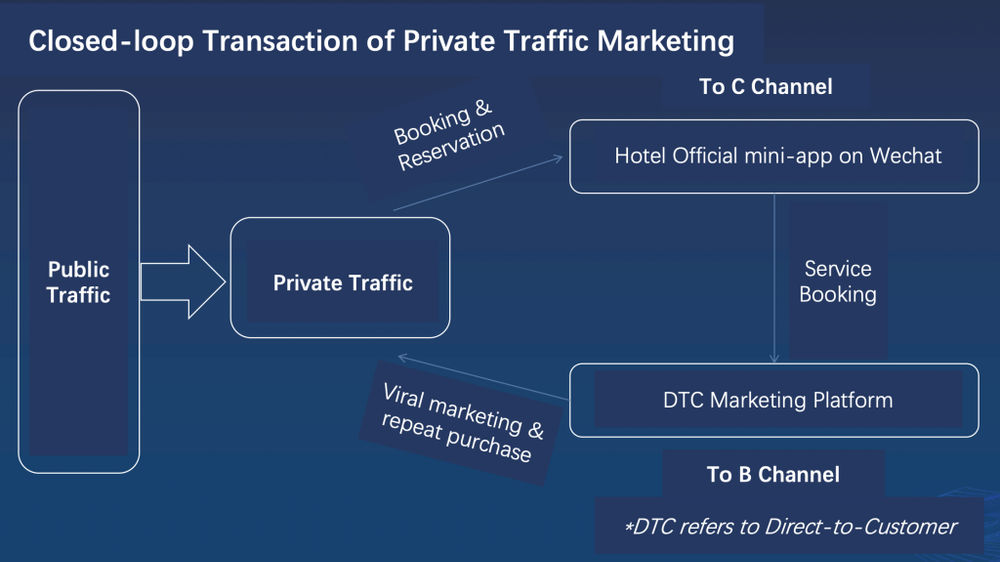 Building its own private traffic ecosystem is undoubtedly the most important and effective method for customer acquisition for small and medium-sized hotels. For instance, the Green City Blue Bay Resort Hotel, a customer of Zhuyou Hotel Group, has successfully turned users into digital assets of the hotel. By adopting a visualised private traffic marketing solution and fine-grained user portraits, the hotel has achieved a conversion rate as high as 38%, compared to the industry's 2% general marketing conversion rate and 15% precise marketing conversion rate. This approach has enabled the hotel to reach customers with effective conversion, driving repeat purchases and enhancing customer loyalty. To improve digital marketing efforts and streamline processes, hotels should consider integrating data from different systems, including WeChat, booking websites and hotel booking systems, and establish a customer relationship database for data analytics.
Establishing a data-driven decision-making mechanism is the main future trend
In the "Hotel Private Traffic Operation Roadmap" released by Shiji Information in 2022, it proposed that hotels need to build capabilities in the following areas: digital marketing, content marketing, data analytics, channel marketing, as well as private traffic operations [7]. Small and medium-sized hotels must collaborate with other platforms and /or digital solution providers to build such capabilities.
The next five years will focus on using Artificial Intelligence to reshape traditional hotel industry standard operating procedures (SOP). Whether a data-driven operating system can be established will be crucial to determining the next growth wave for small and medium-sized hotels.
---
References