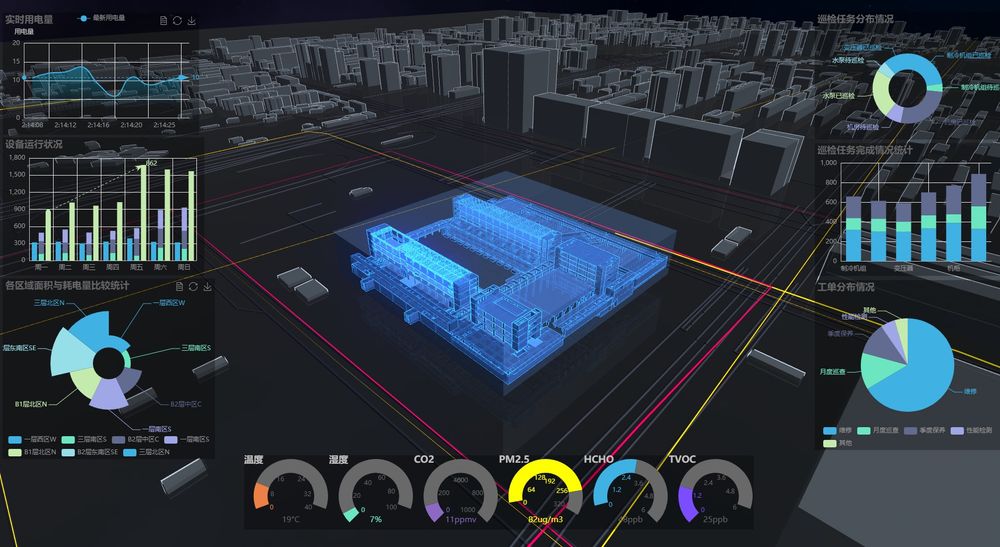 With increasing urban development and big data, we see the continued development of a new technology, digital twins, that will help China shape its new cities into integrated Smart Cities that can benefit businesses as well as citizens.
What is a digital twin?
A digital twin is a virtual representation or model of a product, system or process, used as a tool to simulate, verify, predict and control how the real object or system would react as it faces different scenarios throughout its lifecycle.
Businesses that are able to create digital twins would be able to test any solutions and rectify any problems via this digital copy, giving them advanced visibility to lower the risk of failure on the real object or system and resolve them quickly when they do happen.
The concept of digital twins originated in the aerospace field. Long before the term "digital twin" became popular, NASA used the concept of mirroring their aircrafts and systems to digitally simulate operations in order to improve performance, such as airframe design and maintenance, aircraft capabilities assessment and aircraft fault prediction.
Today, beyond aerospace technology, digital twins are being used in industries such as power, shipping, urban management, agriculture, construction, manufacturing, oil and gas, healthcare and environmental protection.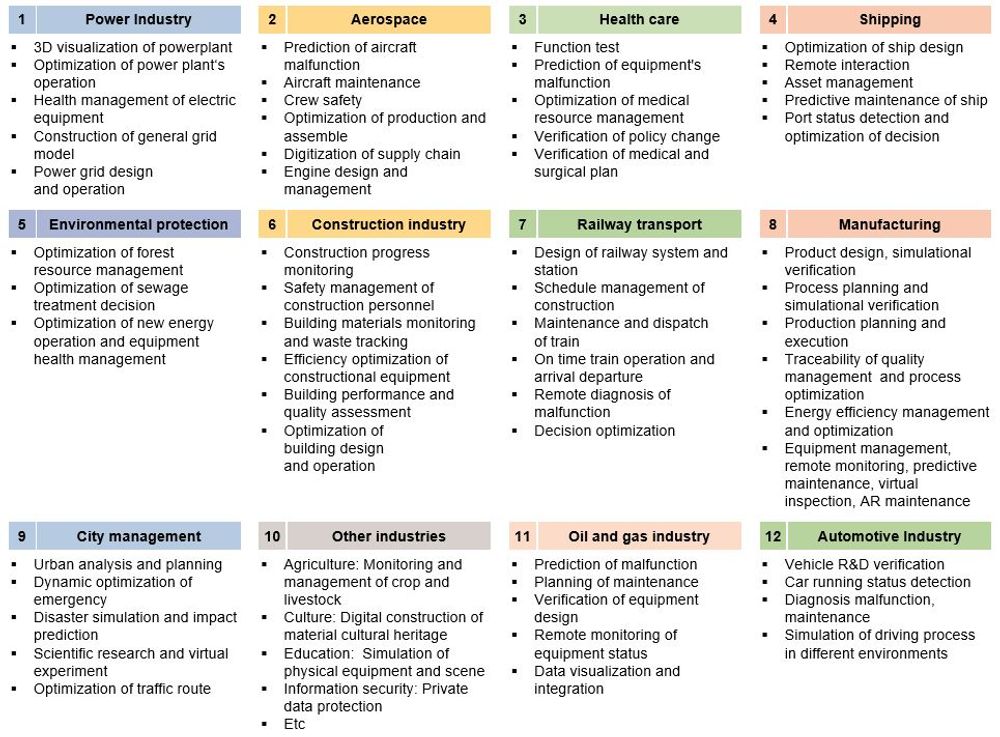 According to research, the global digital twin market reached US$3.6 billion in 2019 and is forecast to grow to US$73 billion by 2030 — a compound annual growth rate of 32% [1].
Where digital twins were previously applied only in single-device scenarios, for example, an aircraft's engine, recent developments have seen digital twins applied to larger and more sophisticated environments, which involve more complex variables and data interactions.
The Internet of Things (IoT), Big Data, Cloud Computing, Artificial Intelligence (AI) and other new technologies have made the implementation of digital twins increasingly possible across all sectors.
How are digital twins applied today?
As government and industry undergo digital transformation, increased automation and improved data management have made way for the growth of digital twin applications in two areas:
1. Urban development and governance
Digital twins have become an important part of urban planning. With virtual models, all organisations involved in city development are able to work cohesively prior to construction to evaluate the best way forward. This urban virtual model can assess factors like the natural terrain and wind direction, while simulating various land use and population size scenarios.
These simulations can be ongoing. As the city develops, the digital twin can be continually worked on and referenced to in order to ensure an urban environment that works with the natural environment and for its people. In the construction phase, the twin can include simulations of construction sites, road traffic, underground pipe corridors and security.
After development, it can be used to map the pulse of the city, combining the real-time data of public security, traffic, medical and emergency response, environmental protection, municipal administration and more, to track and predict activity to help city managers respond in real-time to any situation.
2. Citizen Twins
Digital twins are not only for products or services. They work for people too. In 2020, Gartner identified the "Citizen Twin" as one of the top five emerging technology trends [2].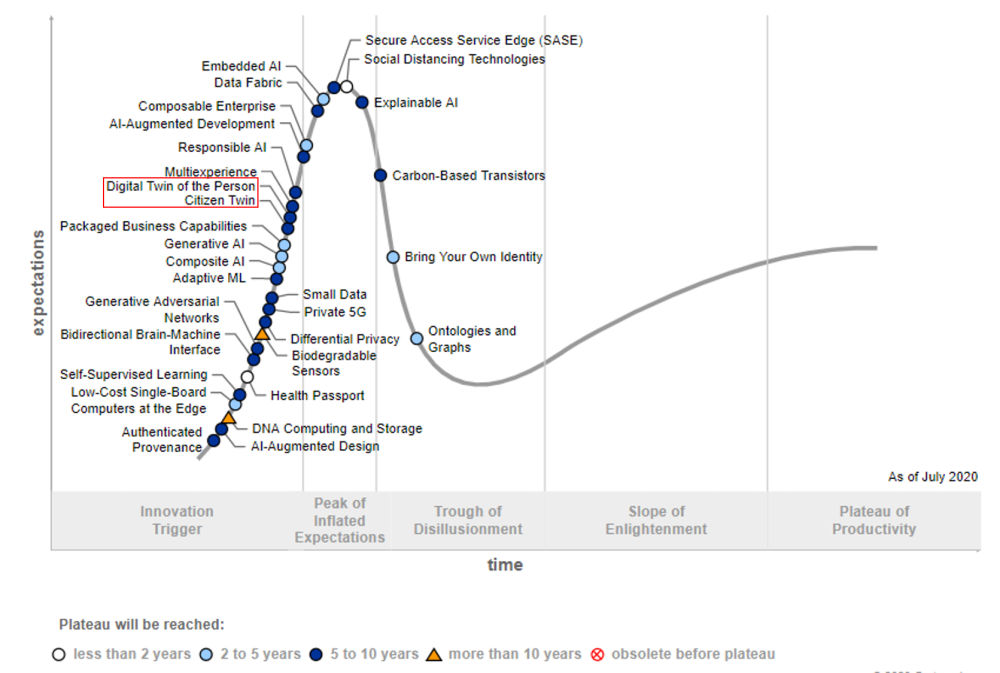 As technology and data become increasingly integrated in people's lives, there are more and more digital representations of ourselves, such as digital passports, digital certificates, health data and contact tracing data — the latter in relation to the COVID-19 pandemic.
With the emergence of citizen twin technology, we can create models that represent people in both the physical and digital space. This includes mirroring how people interact with the digital world, moving beyond keyboards and touchscreens to a combination of interaction modalities that include the voice, vision and gestures.
The technologies to look out for include two-way building information modelling, contact tracing technologies, health passports, digital twins of individuals, citizen twins and multi-experience platforms.
What is the state of digital twin technology in China?
In 2019, the size of China's Smart Cities market exceeded US$140 billion and will continue to grow at a relatively fast pace over the next few years, with the 2023 market expected to exceed US$200 billion. Currently, comprehensive security management, smart parking and smart transportation are the key investment areas in Smart City construction — those three areas alone account for 71% of the total scale of Smart City construction [3]. But new automation technologies, such as robotics, are also being adopted and used across cities.
In 2020, as "New infrastructure" has become the new strategic direction for development in China, relevant policy documents have been issued and some developed areas will create digital twins in the "New infrastructure" construction category.
IDC predicts that the total investment in China's new infrastructure will exceed US$1.5 trillion by 2021. By 2022, 30% of China's cities will start using digital twin spatial planning tools [4]. As China vigorously promotes the construction of "New infrastructure", we see on the one hand that it is bringing in more mature digital technologies such as 5G, IoT, AI and cloud computing, which support the development of digital twins. But these new digital twins will in turn promote the expansion and integration of internet usage, big data, AI and other technologies needed to build out Smart Cities, industrial internet and other businesses.
What are the challenges of developing digital twins in China?
We need to have an objective understanding of the current situation. China's population has now exceeded 1.4 billion and the country is continuing to push for rapid urbanisation. There are problems arising from urban population growth, such as negative environmental impact, high energy consumption and traffic congestion. These are issues that cannot be solved quickly.
In the face of these complex issues, there is a need to improve the standards of construction. Digital twins alone cannot help to resolve city-wide problems if there is no standardisation across development organisations.
While digital technology paves the way for the development of cities and industries, cities have yet to reach a point of homogenous big data collection and cross-industry domain applications. The algorithm models which are servicing businesses and industries and still not mature enough, so they need to be continuously developed. At the same time, the algorithm models and data need more in-depth integration.  
Government departments can take the lead in bringing together the three key verticals of geography, architecture and security that play a role in urban development, as well as technology — hardware, system software and integration — so as to avoid problems in future construction.
What are the important paths for the development of Digital Twin?
Creating digital twins involves integrating many technologies, such as information modeling, information synchronisation, information enhancement, information analysis, intelligent decision-making, information access interface and information security.
Advancing digital twin development needs be undertaken by all sectors of the industrial ecosystem. Government, colleges and enterprises in various technical fields need to work together to realise a holistic role for digital twin technology in urban development.
Through government guidance and industry cooperation to establish standards, we can effectively make progress in scientific research and overcome any issues that may arise in digital twin development.
The primary focus is on an organisational system that brings together departments to work collaboratively, to define a common design base for common requirements and to assemble data for use in diverse scenarios under uniform standards. This will be essential to driving the development of enterprises and deepen data fusion, as AI, big data, cloud computing, IoT, AR and VR enterprises will be given room to grow and enable sectors to collaborate more flexibly under a digital twin platform.
The government should keep data resources open, create conditions for a digital twin technology scheme and application scenario and promote the application to deepen continuously. This will result in an industrial chain with coordinated operations and the emergence of new forms of business.
---