With new digital technology comes a need for digital governance to drive China's urbanisation forward. Here we look at how a Digital Government of the future can accelerate the country's smart nation goals.
What does it mean to have a Digital Government?
A Digital Government adopts digital technology to enhance its governance philosophy, processes, methods and tools for all-round, systematic transformation. The end goal is to modernise its governing system and continue to promote digital transformation across society and industry while creating an open, healthy and safe digital ecology.
China's Digital Government has been in development for several years. As the country's rate of digital transformation continues to speed up, so does its integration of emerging internet technology and Digital Government initiatives. The development and application of emerging technology are enabling government affairs to expand from fundamental digitalisation to building networks and intelligence to serve its people.
Other major developed countries have put forward strategies and plans for the digital transformation of their governments, taking public demand as the guide and striving to improve governance and service capacity through building an open, shared, efficient and collaborative Digital Government.
At the 13th National Committee of the Chinese People's Political Consultative Conference, the idea of speeding up the creation of a digital China was tabled as part of the country's 14th Five-Year Plan (2021-25), which sets a clear direction for China's future development. This acceleration will involve activating the potential of data, promoting China's "Internet Plus" strategy, advancing the creation of a digital economy, a digital society and a Digital Government, and at the same time, using this digitalisation to drive the overall transformation of industrial production, how we live, and how we are governed. This includes providing smart and convenient public services, building smart cities and digital villages, strengthening privacy while encouraging the sharing of public data, and promoting the co-construction and co-use of government affairs information.
How is a Digital Government created?
It can be divided into three stages: information stage, data stage and intelligent stage.
The information stage is the primary stage of Digital Government construction. In the 1990s, with the popularisation of the internet and the development of IT technology, the basic services of government functions such as a paperless office, Government Affairs Service Information, System Cloud and other online services came into being. However, it was a one-way, passive-service model which had not brought about significant change. Its value was limited.
The digitisation stage is where we are today. With vast improvements to our digital infrastructure and the continued progress of digital technology, people have begun to attach value to the data we collect and its role in innovating government services. At the same time, online government services changed from a one-way passive-service model to cross-department and cross-level system integration services.
The Intelligent Stage is the future of digital governance. With the evolution of data technology and intelligent technology, Digital Governments will be able to accurately analyse the complex social environment and capture the needs of different individuals and enterprises to achieve rapid-response, personalised services. With the help of big data, cloud computing, artificial intelligence and other technologies, in conjunction with the opening of data resources, we will see a transformation from social governance to co-governance among all social forces.
How does the Chinese government support the construction of a Digital Government?
The Chinese government attaches great importance to information technology. In 2016, China announced in its 13th Five-Year Plan to accelerate the building of a "Digital China" through the "Internet Plus" strategy. The latest Five-Year Plan calls for strengthening the building of a digital society and a Digital Government while raising the digital and intelligence levels of public service and social governance [1].
According to a QianZhan report, the annual growth rate of the overall investment scale of China's e-government is over 15%, which is far higher than the growth rate of overall IT expenditure. In the future, the market scale will continue to maintain an annual growth rate of 10-15% and is expected to exceed more than RMB 500 billion (USD 76 billion) by 2022 [2].
The other key trend for accelerating the development of China's Digital Government is New Infrastructure, which includes the construction of network infrastructure such as 5G, new technology infrastructure such as cloud computing, and computing infrastructure such as data centres.
Since 2020, as part of the national push for New Infrastructure construction, building a Digital Government has been the primary focus, gradually extending New Infrastructure development to various industries. Therefore, the development of China's New Infrastructure will also greatly affect the level of development of the Digital Government.
What are the achievements of Digital Government construction in China?
According to the UN E-Government Survey 2020, China's e-government Development Index rose from 0.6811 in 2018 to 0.7948 in 2020, higher than the world average, and it is ranked 45 among 193 countries, 20 places higher than it did in 2018 [3]. Various government agencies in China have been actively promoting online government services, with a significant increase in the types of services offered and overall usage.
According to the 2020 Construction Report of China Digital Government [4], Guangdong province ranks first in the country in the construction of Digital Government regions in China, with Zhejiang, Shandong, Fujian and Beijing ranked from second to fifth. This indicates that the level of Digital Government construction in the eastern region is more advanced than in other regions.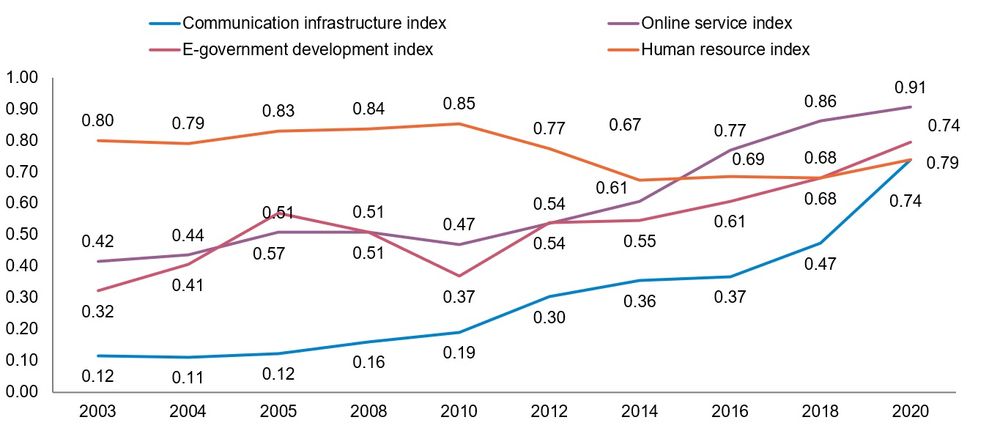 What are the key issues in the development of a Digital Government in China?
As China expands its construction of a Digital Government, it needs to focus on its Information Technology Application Innovation industry. There is increasing demand from local governments for platform construction, and developers will need to pay more attention to platform compatibility as new technology is implemented.
With the development of new software and hardware technologies and the wide use of dedicated computers for supporting security and secrecy products, there is increasing competition among businesses that produce related products. At the same time, with the strengthening of industry support and the improvement of an application ecosystem, there will be more investment choices in the process of Digital Government construction [5].
In the future, government service will evolve from offering service depth to that of service precision through the full use of big data, artificial intelligence, blockchain and other information technology. The growing demand for a Digital Government will push service providers in different fields to form ecological cooperative relationships to reach domestic government service users.
As technology advances and evolves, the mode of government-enterprise cooperation is also changing. We expect to see that Government management of services and enterprise operations will merge, bringing about new patterns of business and collaboration to the market.
---
References