Ever since Facebook rebranded itself as Meta in October 2021, "metaverse" has become a buzzword. But what is it, exactly? What does it do? And – perhaps most importantly – what makes it central to the future of economic growth and sustainable development in our region?
A term that originated in science-fiction is now a fact
The metaverse is nothing more (nothing less!) than an immersive virtual world that allows people to have real-time interactions and experiences across distances and locations [1]. And while Virtual Reality (VR) and Augmented Reality (AR) technologies still remain fundamental to the development of the metaverse [2], blockchain technology is – as illustrated by the diagram below [3] – essential for the metaverse to function in a decentralised, safe and transparent manner with concrete applications.

An unstoppable force – for both private enterprise and public good
With the world investing like never before in making the metaverse work at multiple levels, can China be far behind?
It's interesting to note that Chinese firms like Baidu Inc, Alibaba Group Holding Ltd and Tencent Holdings Ltd (a.k.a. BAT), along with three other tech giants, made it to the top 10 firms that filed the most VR/AR patent applications over the past two years. Trend-watchers tell us that in 2019, the most rapid developments unfolded in retail shopping, education, gaming, marketing, information display and industrial manufacturing [4].
And, when it comes to monetising the metaverse, Morgan Stanley predicts that in China alone it would be worth around US$8 trillion, based on an anticipated move beyond e-commerce and entertainment to disruptions of traditionally offline activities such as vehicle test-drives, real-estate showings and education.
The efforts of private enterprise in exploring and expanding the possibilities of the metaverse [5] spurred the Government to undertake several key initiatives:
In October 2021, the China Mobile Communications Association, supervised by the Ministry of Industrial and Information Technology (MIIT) formed the Metaverse Industry Committee, the first state-backed industry group dedicated to the metaverse. According to projections made by the committee, the industry would jump from approximately US$4.4 billion (RMB 30 billion) to surpass US$29.6 billion (RMB 200 billion), thanks to projects planned for the next five years [6].
In January 2022, the Wuhan government announced plans to integrate metaverse, big data, cloud computing and blockchain with the real economy [7].
In March 2022, Shanghai Data Exchange launched a metaverse-based recruitment programme, which enables jobseekers to virtually submit resumes to different departments [8].
In April 2022, Zhangjiajie launched a metaverse research centre to help the city expand its tourism industry [9] ,with the declaration that metaverse – along with AI, blockchain and 3rd-generation semiconductors – would be one of the most important strategies for its industry pilot zone, expected to launch by 2023.
In May 2022, the China Computer Industry Association formed a metaverse committee with 150 companies among its founding members [10].
In July 2022, The South China Morning Post carried a report on Shanghai's ramped-up support for metaverse development to the extent of US$1.5 billion – all of it to be spent on metaverse products and services, low-carbon energy projects and smart terminal technology [11].
More than a new reality – a new infrastructure
Perhaps this is the reason that the metaverse has gained so much currency in the realm of economic development and urban management.
As Guo Yike, president of the Beijing-based Metaverse Industry Committee put it, "The metaverse is the internet that has developed into a new infrastructure for a new social and economic pattern in the future. This goes far beyond just virtual reality."
With plans to expand the metaverse into manufacturing, commerce, tourism, healthcare and education, the "social purpose" of intelligent and in-depth digitisation becomes apparent.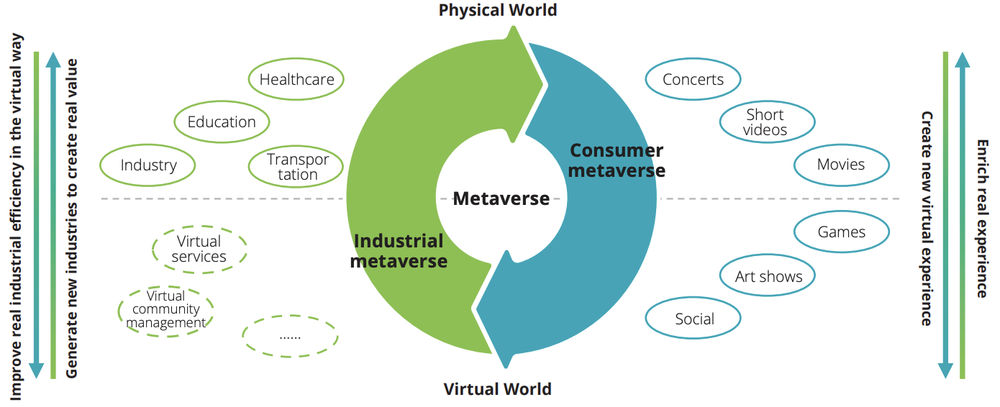 One question that may arise is this:
By creating the necessary climate for a full-blown metaverse mindset, will growth be fuelled by smarter choices and more sustainable moves?
We'd like to think so.
With the push for open and integrated innovations and cooperation across entities both public and private, the ecosystem for smart cities can only get more and more inclusive, stable and user-friendly.
11th November 2021 was declared "Metaverse Day" by the Chinese government. For us, every day is metaverse day because the way we see it:
The metaverse is an opportunity for accelerated growth – and transformative action
By linking the macro with the micro, by studying local realities in the context of the big picture, the meteoric rise of the concept called ''metaverse" can best be understood, appreciated and leveraged through its steady and sustainable implementation on the ground.
---